Explore, Play, Create
Two creative spaces provide endless opportunities to bring your ideas to life.
Design Cultures & Creativity students have access to two spaces on campus to explore their creativity, work on design projects, and enjoy the company of their peers while playing games, making crafts, creating art and music, and more: the DCC Makerspace, located in Prince Frederick Hall, and the Sound Studio, located in Taliaferro Hall. These spaces are hosted by Makerspace and Sound Studio Managers — a select group of current DCC students — who can assist visitors with projects and equipment. Throughout each semester, DCC alumni and invited guests hold workshops, and Managers organize activities for students to get to know each other and the resources in both spaces.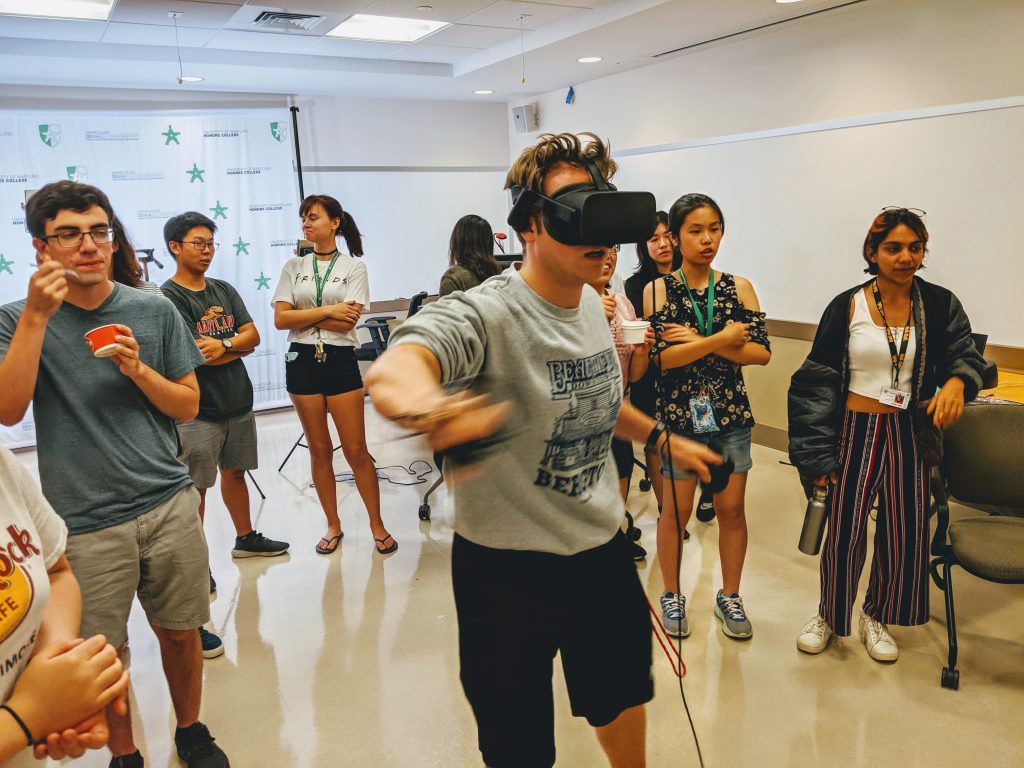 Equipment Inventory
Computers
MacBooks & Macbook Pros
Surfacebooks
iPad Pro
Acer LCD Monitor
Apple CPU
Dell monitor
Intel Core vPro i5 CPU
Minecraft Server
Crafts
Cricut
Knitting and Crochet Box
Sewing Materials
Stationery & Specialty Paper
Paints & brushes
Artist pens, pencils, markers
Table Easel
Yarn
Glue guns
Circuit Boards
Makey Makey
Arduino
Arduino/SparkFun Teaching Kit
Miscellaneous Circuit Board Accessories
PIR Motion Sensor
Raspberry Pi
TV-B-Gone Kit v1.2
Audio
MXL Tempo USB Condenser Microphone
Zoom H1 Handy Portable Digital Recorder
Over-Ear Headphones
Audio Interfaces
Condensor Microphone
Dynamic Mics
Electronic Drum Kit
Hi-Fi Field Audio Recorder
Mackie 1202-VLZ3 Mixer
Mic Pop Filter
Midi Keyboard
Neumann P48 Mic Set
Sustain Pedal
Cables/Accessories
Macbook Chargers
HDMI cables
Google Cardboard
VGA Cables
Apple Mini DisplayPort to VGA Adapter
Apple Power Adapter Duckhead Extension Cords
Apple USB Keyboard
Apple Wireless Mouse
DVI/VGA Adapters
Ethernet Cables
HDMI to DVI Cable
Power Strips & extension cords
USB adaptors
USB Mouse
Wacom Intuos 4 Pen Tablet
MicroSD cards
Sparkfun RF
Audio cables
Firewire cables
SPRING 2022 MAKERSPACE HOURS
Monday, 7pm-midnight
Tuesday, 8:30pm-midnight
Wednesday, 7pm-midnight
Thursday, 7pm-midnight
Friday, 7pm-10pm
Sunday, 11am-1pm
SPRING 2022 SOUNDSTUDIO HOURS
Monday and Friday, 5-9pm
3D PRINTER RESERVATIONS
The DCC Makerspace is equipped with two 3D printers: a MakerBot, available on a first-come, first-served basis; and an Artillery Sidewinder X1, which can be reserved in advance to accommodate your projects! Contact DCC staff via email to request printing time.
DCC ALUMNI?
You're welcome to check out equipment, too! All equipment requests from DCC alumni must be made through the Alumni Equipment Request form. To complete and submit the form, click here.