Xi Class StuCo Candidates
It is our pleasure to announce that the following Xi class students have declared their candidacy for DCC Student Council:
Aashika Balaji
Hi, my name is Aashika Balaji and I am an Immersive Media Design(BS) + pre med major. I would love to join StuCo because I want to be a part of bringing DCC together and forming a tight-knit community. I have always loved using art to either enrich or facilitate conversations in my community. Last year, a few of my passion projects included an 8'x4'x5' conversation house and a 13'x7' mural at school (see pictures on aashikabalaji.com). Additionally, I taught art lessons to elementary/middle schoolers during my sophomore and junior year. Some fun ideas I would love to implement would be:
Monthly DCC trips or dinners
Co-edited scrapbook of our DCC adventures (everyone designs 1 page)
Co-painting hospital murals
Monthly movie nights & cooking fun shaped pizzas
Small or big, I want to help foster our DCC family, and by extension fuel larger changes in our community.
HABIB CAMARA
Hi, my name is Habib Camara and I am running to represent you! My goal as a member of the Student Council is to provide representation of the student voices. I want each member of DCC to feel safe in voicing their ideas when it comes to the program. A little bit about me: I am a Psychology Major, and I love acting, longboarding, and reading. Some of my favorite pieces of literature include Othello, Thinking, Fast and Slow, and The Importance of Being Earnest. I want to make sure that the collective voices of the Xi class are heard. Throughout high school, I was an executive producer of my school's video publication, Assistant Director of the Drama Club, Captain of the Wrestling Team, and Head Media coordinator of my school's diversity Club. With these experiences under my belt, I know that I am a capable candidate who can properly voice the thoughts of the Xi class.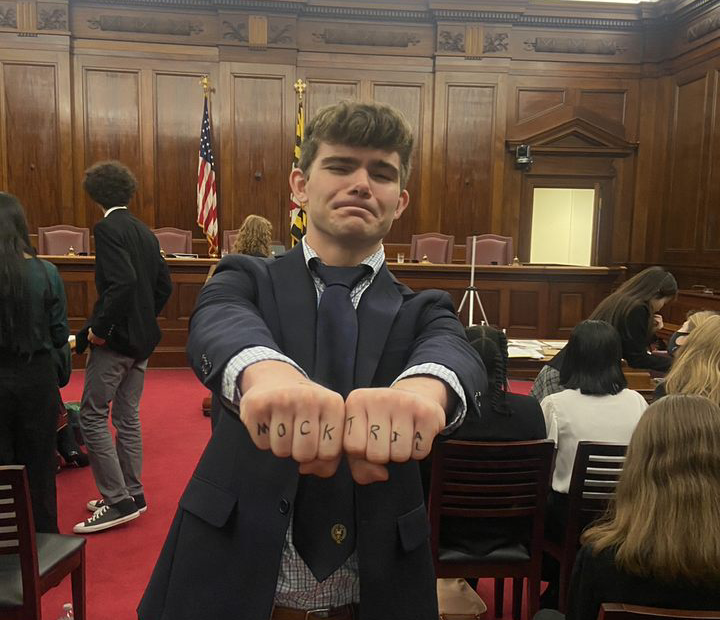 ELLIOT GERIG
Hey! I'm Elliot Gerig, and similar to all of you, I'm super excited to impact my community and contribute to DCC! Some of my interests include soccer, Star Wars, and engineering (feel free to say hi!) but what really pushes me forward is leadership and service to my community. Whether that be in the classroom or the sports field, I strive to be a better person each day.
I plan to join StuCo to promote inclusivity, diversity of thought, and intellectual curiosity. All of these aspects are crucial to a thriving LLP, but what makes DCC special is YOU. I understand that each and every perspective needs to be heard, and I want to enable each and every one of you to make a change in our community. Through planning events, I hope to encourage involvement ranging across every possible interest, and I am dedicated to ensuring everyone has a voice.
Because of this passion, I have been elected into several leadership positions in the past. As president of National Honors Society, an officer in Student Government and Class Office, and Captain of both my Soccer and Mock Trial teams, I understand what it means to lead my peers, but what makes me unique is just how I accomplish that responsibility: I follow.
I believe the most vital aspect of leadership is understanding; listening to what YOU have to say, and being a funnel for YOUR voices to be heard.
I absolutely love our diverse LLP, and I have already made so many amazing friendships in my short time here, but I want to get to know each and every one of you. It is this community that makes DCC special (the best LLP, of course!), and I would love to be a part of StuCo. Thank You!!!!
Watch Elliot's candidacy video by clicking here!
MEREDITH HECHT
HI! My name is Meredith Hecht. I am from Baltimore County, Maryland, and I am a freshman physiology and neurobiology major. I love playing field hockey, taking pictures (shout out to my Canon Rebel), painting with watercolors, and studying with friends! I cannot wait to get to know everyone in DCC and I would love to be one of your StuCo representatives this year!
I want to plan memorable DCC events that encourage our program to not only familiarize ourselves with each other but with other organizations and LLPs on and off campus. I have so many ideas that will help spark all of our creative minds, for example a game of "Taskmaster" (the best game show ever) between families. As a representative, I will make a strong effort to connect our community by offering exciting opportunities that will uphold our program's title as the best LLP on campus!
PRIYA NAYAK
HI DCC TERPS!!‼️✨ I'm Priya from Howard County MD, and I'm majoring in mechanical engineering!
I LOVE taking pictures of friends and the sunset (polaroids, digitals, film) and never leave the house without my film camera. I print these pictures out and hand them out to friends + hang them up on my walls. I am the self-proclaimed 'speaker friend' and even though you should never put me on aux, I believe music is the KEY to a fun hangout, and love blending different music genres and languages. My favorite artist is definitely Taylor Swift (reputation, folklore and lover 💗 are my top 3 eras 🫶🏽) and I also enjoy country (don't hate!) and rap. I can play flute and ukulele and am currently (not very successfully) learning guitar.
Now, why should you vote for me? I LOVE Student Government. I was in Student Government for 3 years in high school both as the Vice President of my class and then moving up to the School-Wide Executive Board and it was one of the things I loved the most. I have experience planning events like dances, sunrise watches, picnics, & game nights, as well as balancing budgets, and sharing information through social media. I would love to bring events like sunset watching, dances, and lounge movie nights to DCC 🙂
I chose DCC because I knew my major would be demanding and I wanted a fun and creative environment to let my more artistic side relax in. On StuCo, I will strive to make this chill, fun, close community for all of us. I want DCC to feel like a tight-knit community built around frequent events that bring us all closer, and I believe I can voice everyone's ideas and make them happen. In the time I've been at DCC, I can already see how special everyone is. The wide range of our majors, experiences, interests and skills is so incredible and I want to make as many opportunities for us to make memories together and learn from each other. I'm not afraid to speak up to get things done and will aim to maintain a fun dynamic between the StuCo and DCC. (I also love Prince Frederick and am here all the time to hear any ideas you might have!)
Mia Smith
Hi everyone! My name is Mia Smith and I am in the Xi DCC class. A little bit about me... I'm majoring in Immersive Media Design, I love video games (don't even try me in Mario kart and Just Dance), over-analyzing movies and cartoons, drawing (of course) and meeting new people! I want to run because of that! I want to be in the room where it happens: where all the decisions and events are curated. If elected, I will make sure everyone's voices in the entire DCC program are heard and make sure that collaboration, growth, and togetherness are at the heart of everything we do! Thank you all for your time and consideration! 😀
Emma Wilson
Hi- I'm Emma Wilson 🙂 I'm a freshman from Towson in Baltimore County, Maryland. I'm a classically trained vocalist here to study kinesiology. I really enjoy the connection physical therapists experience with their clients, in addition to the scientific studies of the human experience.
Personally, I'm passionate about issues surrounding: accessibility to resources, self/community growth, equity, fostering accepting learning environments, and flexibility of learning styles.
I held a variety of leadership positions throughout high school which required consistent communication between society members and our advisors. These included being publicist, secretary, and then president for both Science National Honor Society and Tri-M (music) Honor Society. These positions have provided me with ample opportunities to plan community events, ranging from concerts to science fairs. The position I enjoyed the most involved the creation of mental health resources for Baltimore County high school guidance offices; a project that I led with the help of 12 other leaders selected to represent their respective high schools. Regardless of the title I held, I was a member of a committee dedicated to the enhancement of the student experience through functional communication and inclusive thinking.
I'm running because I believe my effort and dedication can make a direct impact on the functionality of our community as a whole, one I'm already proud to be a part of. I've enjoyed working to enhance student experiences in high school, and making sure students feel their lived experiences are considered is something I'm passionate about. I believe that ensuring students feel their values and expectations are being upheld throughout various aspects of the program is the best way to build long term trust and promote open communication in our community. It's important that every student feels represented. I joined DCC because I love learning from my environment and the diverse perspectives and experiences of the people in it. I feel that the more I encounter, experience, and analyze, the better and more well-rounded of a person I can become. I want to join DCC StuCo to be a part of helping our environment be the best it can.
Adam Zennia
YOOOOOOOOOOOOO!!!!!! If you don't vote for me, you are scientifically proven to be 100% unsuccessful in the future (guaranteed). In fact, 90% of my supporters vote for me RIGHT before getting the bag!!!!! REAL! On a more serious note, I'm super friendly and committed to our honors program; I really do have a ton of ideas for improving our experience. From hosting a logo redesign contest to ensuring the presence of Game Design classes, I commit to improving the DCC as a whole.
Watch Adam's candidacy video by clicking here!